Avec Multi Art depuis plus de 25 ans / With Multi Art for over 25 years
Lorsque l'ancien premier ministre du Canada, Jean Chrétien offre l'une de vos toiles au pape Jean-Paul II, c'est la preuve irréfutable que vous êtes un artiste. Gaston Rebry a connu cet honneur, refusé à bien d'autres artistes canadiens. Et même s'il est né en Belgique en 1933 et qu'il vit au Canada depuis les années cinquante, il a vraiment fait de son pays d'adoption sa patrie.
Cycliste professionnel en Belgique, il entretient depuis l'enfance un profond intérêt pour le dessin. Malgré une scolarité arrêtée à quatorze ans, il parvint à obtenir un diplôme de la Menen Academy en Flandre en 1953. La même année, son père étant décédé à Montréal, sa sœur l'invita pour surmonter son deuil. Durant son séjour, il décida de s'inscrire à l'École des beaux-arts de Montréal et de peindre à temps partiel. Vendant ses toiles aux magasins de meubles, dans les bazars des quartiers, il se consacra exclusivement à la peinture au milieu de la trentaine.
D'abord portraitiste, il s'intéressa aux paysages urbains pour finalement peindre des paysages dépourvus de sujets humains. Il aime la campagne québécoise en raison du fort contraste avec le plat pays flamand. Inspiré par le paysage, il cherche à le reconstruire plutôt que de se contenter de le représenter. Gaston Rebry préfère croquer d'après nature, pour donner ensuite libre cours à l'inspiration dans son atelier. De cette manière, il se libère de la contrainte que constitue la réalité du paysage et choisit alors les couleurs ou les formes à ajouter au tableau. Pour éviter de s'égarer dans l'une de ses forêts, il lui arrive de peindre une nature morte ou un nu. Influencées par le Groupe des Sept, ses peintures se retrouvent dans tous les musées du Canada et dans nombre de collections privées. Il a participé à une foule d'expositions, et en a réalisé plus d'une vingtaine en solo. Artiste prolifique, il assure cependant que chaque toile constitue la culmination de toute sa carrière.
---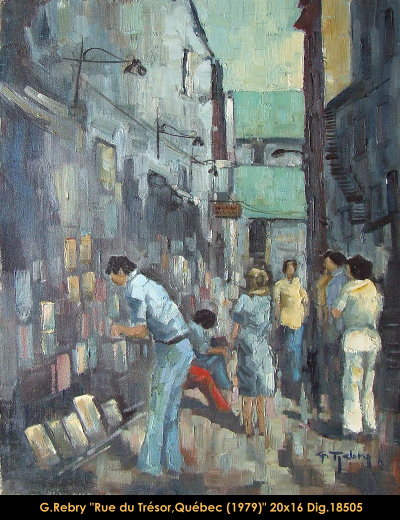 When Jean Chrétien (former Canadian Prime-Minister) presents one of your paintings as a gift to the pope Jean-Paul II, it is fair to say that you have made it as an artist. Gaston Rebry has had this distinct honor that most Canadian artists do not share. Although he was born in Belgium in 1933, this artist has lived in Canada since the 1950's, and has truly adopted this land as his own.

In Belgium he was a professional cyclist, but always maintained his interest in drawing that he has had since childhood. Although he abandoned traditional schooling at 14 years old, he managed to earn a degree in drawing at the Menen Academy in Flanders in 1953. That same year, his father passed away in Montreal, where his sister invited him to mourn his death. While in Montreal, he decided to study at the Ecole des Beaux-Arts de Montreal and began to paint part-time. He sold his paintings to furniture dealers at local bazaars and by the time he was in his mid-thirties, he was painting full-time.

He has evolved from painting people, to urban landscapes and eventually to landscapes free of any human representation. He loves the Quebec landscape because of the sharp contrast to the flatness of Flanders' fields. He is inspired by nature and seeks out to reconstruct it rather that copy it. Gaston Rebry prefers to sketch outdoors and lets the magic happen in the studio. This way he is not restricted by the reality of the landscape, and is free to imply any color or form he feels will add to the piece. Every so often, he paints a still life of a nude so ensure not getting lost in one of his own forests. Influenced by the Group of Seven, his paintings can be found in galleries all over Canada and in several corporate and private collections. He has participated in several exhibitions and has hosted over 20 solo shows. Although a very prolific painter, he explains that each piece is a culmination of the experience of his entire career.